Hand Hygiene During the Pandemic
Solutions for fighting viruses – we introduce a super strength sanitiser with anti-bacterial, anti-virus and anti-microbial technology with long-lasting protection for all skin types
Touchless Sanitiser Dispenser
In a world increasingly reliant on highly-effective hand sanitiser solutions, Prima has taken hand hygiene to a new standard with our automatic touch-free sanitiser dispensers.
Using high-accuracy sensors, these portable systems deliver a precise quantity of soap or sanitizer without the need to touch the dispenser. This vastly reduces the risk of infection transmission while ensuring users get the right amount of product every time as well as minimising wastage.
Also available mounted on a portable telescopic stand, these units are perfect for transporting to temporary hospitals, supermarkets or anywhere there is an urgent need for hand washing and sanitizing equipment.
Features
• Made of ABS
• Portable
• Electronic
• Minimize waste and ensure maximum hygiene
• Flexibility and performance for great performance
• Non-contact ultra-hygienic operation
• Automatically provides the perfect measurement every time
• Portability allows hand hygiene in any location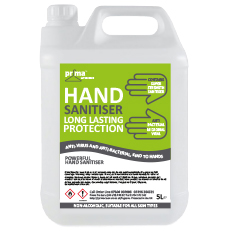 A powerful super-strength sanitiser for all hands
Advantages
Quick, easy and ready to use
instant sanitation of hands
Used without soap and water
Non-rinse formula, Non-alcoholic may be gentler on skin
Applications
Specially formulated liquid hand sanitiser for use on human hands.
Hand disinfectant
Contains super-strength sanitiser with anti-bacterial, anti virus and anti microbial technology with long-lasting protection for all skin types.
Virus protection
Contains unique bio-technology to help better protect against viruses and infections.